Operation Quick Anger Commemoration 2018: After the Battle of Arnhem in September 1944, when the British and U.S. forces failed to cross the Rhine, the northern part of the Netherlands remained under nazi-German occupation. In the spring of 1945, the Western Allies launched a series of military operations to liberate the northern part of the Netherlands, two of them were Operation Quick Anger and Operation Cannonshot, they were conducted in conjunction with each other. Operation Quick Anger was a military operation to seize Arnhem, to liberate the city an enormous Allied military force was gathered at the small village of Westervoort on the east bank of the river IJssel. After the lost Battle of Arnhem in 1944, the residents of Westervoort had already been evacuated. Operation Quick Anger started on 12 April 1945, the Allies crossed the IJssel from the east at Westervoort. The first troops crossed the river in amphibious vehicles, within 11 hours the Allied forces had constructed a temperory bridge and thousands of military vehicles crossed the river to liberate Arnhem. Arnhem was liberated on 14 April 1945 and within a month the whole of the Netherlands. On 5 May 1945, the nazi-German occupation of the Netherlands had come to an end. The First Canadian Army played a crucial role in the liberation of the northern part of Netherlands. During the liberation of the Arnhem in april 1945, 62 British soldiers were killed and 134 were wounded, although it is unclear if these figures include Canadian casualties.
In April 2018, we took part in the commemoration of Operation Quick Anger. WWII vehicles and their owners gathered at Vredenburg House in Westervoort for a memorial tour. In our own WWII Ford Jeep, together with other WWII vehicles, we drove through the Liemers, a rural region east of the IJssel. The tour ended at the Crossing to Liberation Monument on the east bank of the river IJssel at Westervoort, where we attended the memorial and wreath-laying ceremony. Since 2011, the memorial ceremony is held at the monument every year to commemorate Operation Quick Anger. The Liberation Flame is also lit at Crossing to Liberation Monument. Each year at midnight on 4 to 5 May, a torch is lit at the Liberation Flame in Wageningen, the city where the capitulation documents for all the German forces in the Netherlands were signed. The flame is brought by a team of runners from Wageningen, the City of Liberation, to more than 200 communities in the Netherlands, Westervoort is one of these communities.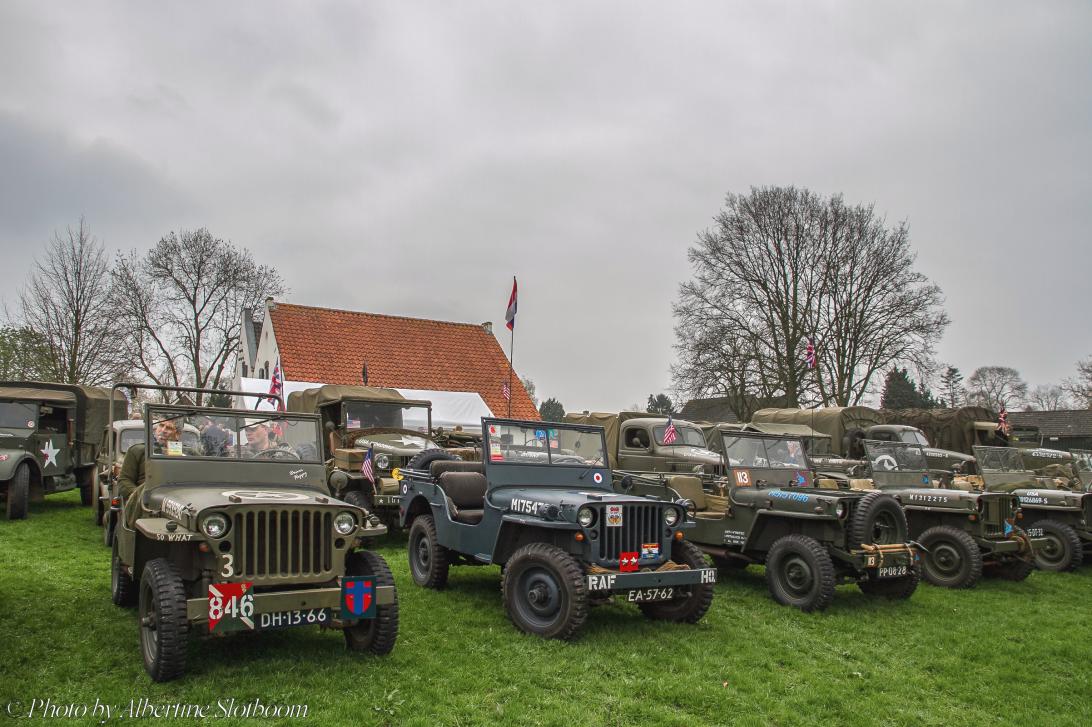 Operation Quick Anger Commemoration and Memorial Tour 2018: In April 2018, we took part in the memorial tour and attended the memorial ceremony of Operation Quick Anger. Several authentic WWII vehicles and their owners gathered at Vredenburg House in the Dutch village of Westervoort for the memorial tour.